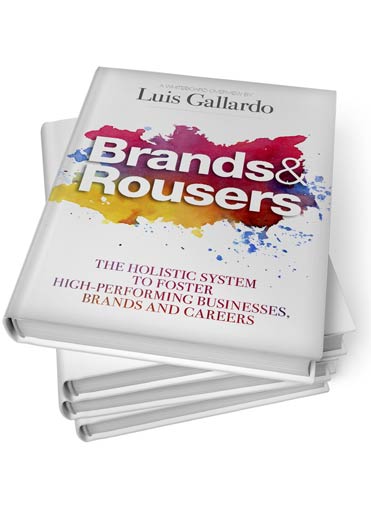 The holistic system to foster high performing businesses, brands and careers
Luis Gallardo expertly guides the reader in understanding the complexity of today's corporate world and lucidly highlights what the roads to successful and high performance leadership involve.
The author's broad views, based on his solid knowledge as a longstanding business expert, make his book a must read for all leaders. He has made a unique and critical contribution to both the theory and practice of leadership.
George Kohlrieser, Professor of Leadership and Organizational Behavior at IMD and internationally bestselling author of Hostage at the Table and Care to Dare.
——
Building high-performing brands in today's ever changing world becomes a huge task for global brands. Luis Gallardo has been able to develop and explain a really helpful and powerful framework to foster winning multinational businesses. A must read!
Alfredo Gangotena is Global CMO at MasterCard Worldwide
——
You've probably heard the saying "think globally, act locally." This popular phrase encourages people to consider the impact on the entire world when making choices while at the same time acknowledging that real change starts from small acts within local communities.
Luis Gallardo takes "think globally, act locally" one step further with his own point of view – "think holistic, act personal." This philosophy suggests that there are two elements in a successful business: taking actions that promote sustained profit and growth and addressing your customers' personal needs so that your message is relevant and timely. In other words: for your business to succeed, you must simultaneously think about things in the largest way possible and in the smallest way possible.
To fulfill the "think holistic act personal" creed, we must also remember to act personal in ways that bring meaning to peoples' lives. Not only will it help your business, but it might also just start a revolution.
Jennifer Aaker is the General Atlantic Professor of Marketing at Stanford University's Graduate School of Business. She is the co-author, together with Andy Smith, of The Dragonfly Effect.
Buy it on Amazon